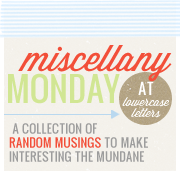 Goodness, I am finally taking a moment to participate in Miscellany Monday. Love it! But I haven't joined in quite a few weeks. I'm making a point to do it this week because it's just too much fun to pass up!
One-

I blame Jimmy Buffet for my crazy yearning to go to the beach. I was already longing for it like crazy, but then Justin and I watched some of his fundraiser concert for the gulf coast last night. I grew up going to the gulf coast every summer. This summer we aren't. Not because of the oil spill but because we already had a different summer trip planned. My heart really yearns for the ocean...no joke. There is no
place that I see God's beauty in His creation more than sitting on the shore of the water. I can find a peace there that no other place brings.
Two-

We have baby twin deer that hang out with their momma right around our house. They are almost always by our neighbor's tree across the yard. But sometimes they show up in our backyard to bed down, or by our mailbox, or in the woods on either side of our house. They are spotted and so adorable.
Three-I am hoping my teaching career allows for another shark dissection sometime. (I never thought I would have said that.) My first year of teaching was the year that my grade level dissected sharks. First year of teaching! Yikes! I was terrorized and traumatized by the thought. I had never dissected anything
in all my school years. But I survived a week of having six dog fish sharks in rubbermaid containers in my classroom. With awesome volunteers we somehow managed to dissect the sharks with (very dull) dissecting tools, found whole parts of fish that had been swallowed, and I loved every minute of it!
Four-

I have a crazy obsession with naming our unborn (and/or un-adopted) children.
Really. I've decided it's an obsession. I'm not saying what names I really adore just because those will be shared as the right time comes. I will share that I love the idea of strong biblical names, strong family names, naming kiddos something unique so that they have a unique identity, and naming a kiddo a strong name that gives them a story to share. But know that I have a list in my journal and am always saying to Justin, "Hey what do you think of.....?"
Five-

Bugs love me. Mucho. It's like my skin screams "besame" ("kiss me" in espanol). My ankles were eaten alive this weekend at my husband's grandparents' estate yard sale. Justin's grandpa had amazing apple, pear, and peach trees that the bugs must love. While we were cleaning things out getting ready for the yard sale, they left their midday snack of fruit and snacked on my ankles. Gross. The same thing happened to me a few summers ago on our mission trip to the Bahamas. Two words. Sand fleas.
Six-
I love seeing wind turbines. If we could, I would have one in our backyard. I just think they're so cool.
Seven-My current health kick is trying to train myself to eat less. Really, I'm one of those people that can just eat and eat if something tastes good. I kinda ignore that "I'm full" voice sometimes. :) So I'm trying to make sure to have a to-go box when I leave a restaurant and have enough food left from dinner to have leftovers for a second meal.
Okay, that's all. Happy Monday and happy miscellany! (I actually enjoy Mondays during the summer!)