Dear Adeline Grace,
You are 12 months old....ONE year old!! How and when did that happen?! You are now our toddler and not our baby...although you will
always
be our baby in our hearts!
So what have we learned about you this month and what have you been up to in your
twelfth
month of life? (Once again, I didn't document as well this month! You are just too busy and it's so much fun to watch and participate! Plus, this month you had your first real illness- a bad ear infection- and you were sick for over a week with a high fever and reactions to your meds. Poor girl!)
Here are some of your firsts this month...

10.13.12- Visited your first pumpkin patch. You loved the tractor-pulled hayride out to the pumpkin patch and picking out pumpkins! We also got to enjoy their petting zoo and then went out to dinner. Such a fun family tradition to start!

10.28.12- Your first Trunk-or-Treat at church! You had so much fun being pulled in Anna's wagon and trick-or-treating with her. You won best costume in your age division! You were waving and blowing kisses on stage as your Daddy held you. Hilarious!

10.31.12- Your first Halloween! You trick-or-treated at your cousins' and a little in their neighborhood, your grandparents', and to see all of your great grandparents! You were a lady bug and super cute!

11.3.12- Your first birthday part at your house! The theme was "This Little Light of Mine". We had your closest family and friends and partied all afternoon. You were such a ham and loved having all the attention! You were very dainty with your cake! You also took your first big girl steps on your own at your party!!
This month you also:
-started walking while holding onto things with very little help
-started drawing and coloring!
-started loving yogurt
-celebrated Daddy's birthday by spending the day at the mall as a family...it was a rainy gross day so we hung out there all day
-carved your first pumpkin (you loved to "help")
-started throwing some fits and whining
So what do you like and dislike?

-being around people and interacting with people (you are the welcoming committee everywhere we go!)
-bath time (playing with the running faucet)
-Boone
-emptying things...anything...drawers, your toy buckets, baskets, etc.
-waving and blowing kisses
-diaper changes
-getting dressed
-when Mommy and Daddy won't pick you up right away
-eating any kind of pureed food
-when you don't get your way
You are in 12 and 18 month sleepers and 12-18 month clothing. Although, even some 12 month pants are long on you. You are wearing size 4 disposable diapers. You wear a size 3 in shoes. You weigh between 18 and 19 pounds and you are 28.25 inches long. You are a petite little thing with your percentiles...but happy and healthy and that's all that matters! (To which we are so, so grateful!)
What are your eating habits like?
Just like I said last month, you are still going strong with nursing! Yay! You nurse when you wake up (varies each day), around lunchtime (12 or so), in the afternoon (4 or 5) and at bedtime. You still wake once or twice and nurse during the night.
Breakfast faves: fruit, cereal bars, turkey sausage
Lunch faves: turkey, turkey, turkey, green beans, fruit, crackers, puffs or cheerios, shredded cheese (anything!)
Dinner faves: really anything we are eating! (you really like any kind of meat at this point...you love to eat and aren't picky)
Snack faves: Pirates Booty (all natural cheddar soft popcorn), yogurt, goldfish crackers, other crackers
We tried apple juice this month when you were sick and you didn't want anything to do with it. You now beg for our drinks and love to take a drink of anything we have.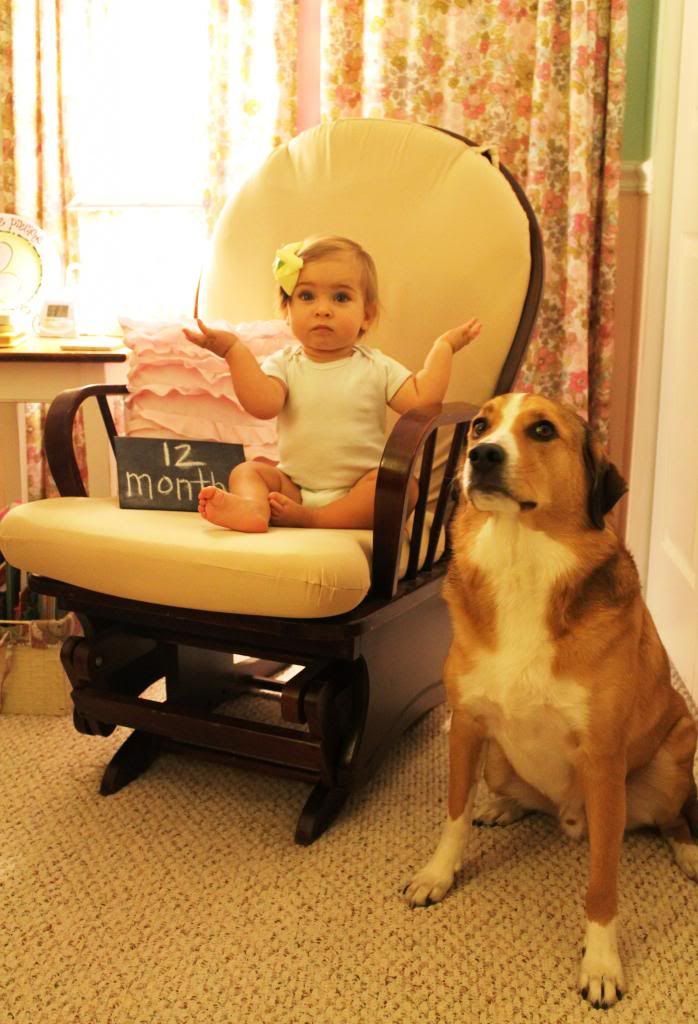 How is your sleeping?
Not bad! You go to bed (so, so easily) between 8 and 8:30. You love to have Slush, Safari, your bunny and two blankets in bed with you. You cuddle like crazy and usually end up on top of your blankets. This is the first month we felt safe letting you have all these things in your bed. You wake up once or twice (occasionally not at all!!) during the night and sleep at least 11 or 12 hours.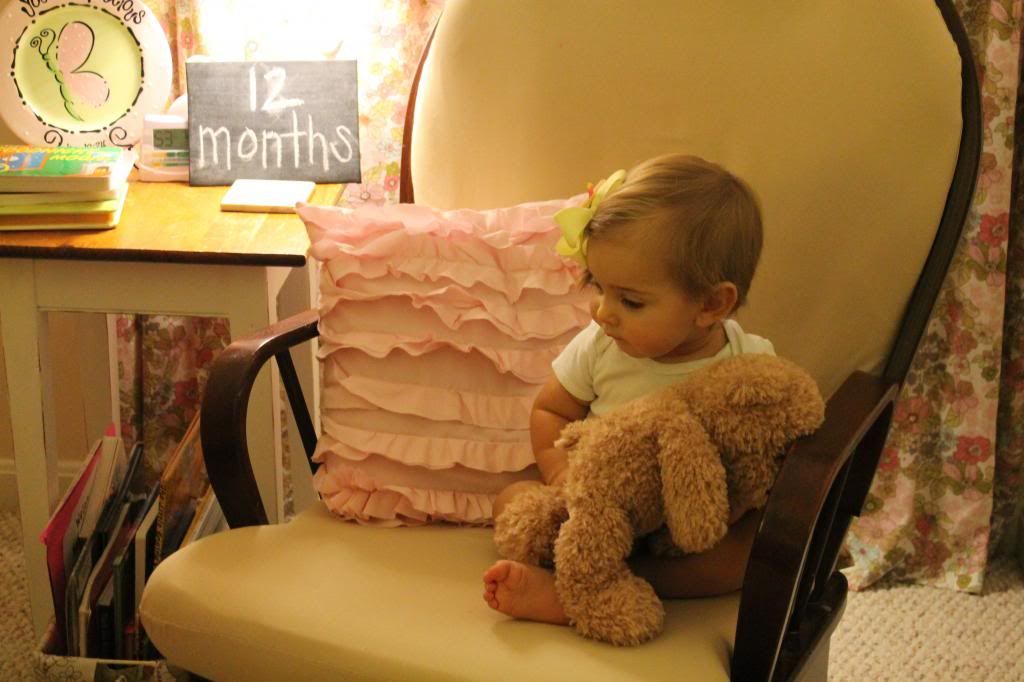 So what makes you, you this month?
One whole year!! You have been sweet, cuddly and fun since the moment we met you. You changed our worlds for the better and we thank God for the gift He gave us when He gave us you. You have the ability to completely light up a room and you draw attention everywhere we go from your sweetness and cuteness. We hear all the time how sweet you are and how beautiful you are. As beautiful as you are on the outside, your sweet little heart and soul on the inside is what makes you even more amazing. Happy 1st Birthday, sweet baby girl! You melt our hearts and we love you so, so much.


Love,
Mommy and Daddy