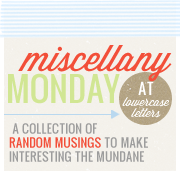 One-
No I have not abandoned my blog. Or reading your blogs. We just got back from a wonderful family vacation to Washington D.C. and I have not had time to blog or really be on the internet much at all. It was a nice break. Pictures to come and I'm looking forward to catching up on my blog reading and posting this week!
Two-

I have yet to open our crock pot after two years of marriage. However, I'm planning on dusting off the box, bringing it out from the basement, and using it this fall and winter. I know some people swear by their crock pots. What are your favorite (easy, yummy, and healthy) crock pot recipes? Please share!
Three-

Couch to 5k begins this week. Yikes! I'm getting so pumped, though. And I'm hoping (and praying) this excitement rubs off on my hubby...poor thing. He's so busy with school, work, and side jobs that I'm hoping he can squeeze in the time here and there for us to train together. I'm so looking forward to getting my body into shape.
Four-

Is it normal to think your first born might not be as sweet and well-behaved as your puppy-child? Seriously...I'm the oldest in my family. I know how all the hardcore attention, parenting, and spoiling goes to the first child. Well Boone gets treated pretty well for a dog...more like our baby. We often laugh about this and wonder
how in the world we will get a human baby as "well trained".
Five-I'm not trying to be political or anything. Really...I promise. But The View?...really President Obama? Come on.....don't you have better things to do and, shall I add in there....more important things to do. (Needless to say, we didn't see him while we were in DC....he was too "busy".) I just feel like it's kind of like the rule that a parent shouldn't be their child's friend, but instead their parent. I just don't think the president should go for the popular role when he's supposed to be the leader of our nation. That role should be beyond the control of popularity status. Do your job....and do it well. Beyond that, it doesn't matter what people think. Okay, I'm stepping off the soapbox.
Six-I forgot how hilarious my 20 year old little brother is. (I'm talking tears in my eyes...trying not to pee my pants funny.) He really had me laughing so much over vacation.
(And then when you get him and Justin going together...that means even more stomach cramps from laughing.)
He is my little bro, and of course we still "pick" at each other here and there, but I so enjoyed being around him this past week. With him being away at school and me so busy with life in general, I don't get to be around him enough. I love that I truly enjoy being around my family...what a blessing.
Seven-Our pastor shared an amazing message on Sunday morning about the importance of radical giving as a christian. I love, love radical giving. We're called to it as Christians and it simply makes life so much more joyful. Have you ever paid for the car behind you in the drive-thru? Ever left a huge tip just because? Have you ever given of your time even though you were incredibly busy? If so, you've been Jesus to someone. I just love that!
Happy Monday and Happy Miscellany to you today. Enjoy the day.