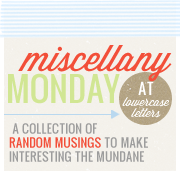 One
--I'm double dipping in this miscellany monday because I also just adore
A Frugal Friend's
Mailbox Monday. (I've always been a multi-tasker...I hope linking up double isn't a bloggy faux pa!) Check out what I got in my mailbox the past couple weeks for FREE!
-gobs of pantene shampoo and conditioner
-lotion samples w/ spf!
-FREE coupon for mac and cheese
-Prilosec samples
(I pass these on to my grandpa...love being able to give away freebies!)
-cascade dish detergent actionpacs (LOVE these!)
-John Frieda samples
-P&G coupon booklet
-toothpaste
-Dr. Scholl's shoe insert (ummm...but who can use just a righty?)
-my beloved TOMS I won thanks to
Lindsey
's fabulous giveaway!
I ordered the olive color and they truly do go with anything.
Two
--Does the annoying "on-hold" music bother anyone else as much as it does me? Oh my...that's enough to get me started on the wrong foot with the person about to pick up on the other end. Needless to say, I was very kind to "Michelle" when she explained tonight on the phone just why our mortgage payment had mysteriously gone up....lovely little surprise.
Three
--
Did you know?
that you can get permanent marker off a whiteboard by using a dry erase marker? Well I didn't but one of my smart 4th graders did. One of my little sweeties (we will say)
accidentally
(I hope) wrote on our board with a permanent marker. Well my smart student took a dry erase marker, traced directly over the box drawn with permanent marker, grabbed the eraser and erased the line....walla!
The permanent marker mark was gone!
Four

--I rearranged my kitchen counter tops this weekend. Why do I have the crazy need to do that so often?! But it does make me happy!
Five
--We are sweating like crazy in our house....our AC unit is out...the 90 degree temps sorta snuck up on us. Thankfully a nice AC guy is coming to fix the problem soon. Until then....we are loving box fans!