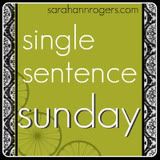 I just love single sentence Sunday! Check it out...even join in if you have a moment!
Sarah Ann
is such a refreshing writer with such a great heart and I so enjoy taking part in this fun weekly tradition.
You're
not an object to be used
by this world--you're to

be
used by God

in this world.
-my personal take on a recent message I heard
Enjoy your week ahead! Check out Matthew 6:25-27 for encouraging words when the world seems to try to take hold of you this week.