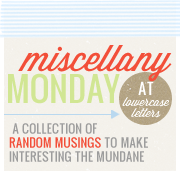 It's that time of the week again!
One--
Today I have been pondering how long you are considered a newlywed. Just how long is it? Until you start to get gray hair? Until you have your first kiddo? Until you are calling each other "honey" which, no offense, but gag...I cannot get myself to call Justin "honey"...it's "babe" or "baby" around this bungalow...which may make you gag and that's okay too. Anywho..I'm wondering because I wore a "Life is Good" newlyweds t-shirt today to class and someone said "aww, how long have you been married?" and I said...well actually almost two years...I just like the t-shirt.
Two--
When in the world are teachers going to have to quit "jumping through hoops" to simply do what they are called to do and are passionate about...teaching kiddos. Period. That's it. That's all I signed up for. This grad school thing is getting my blood boiling....Two words---research proposal. (Maybe it's not just teaching and you feel the same way about your profession...)
Three--
I love and adore Lean Cuisine's French Bread Pepperoni Pizza...I could probably eat one for lunch every day of my life.
Four--
I have been super productive in my home improvement projects lately...including some new areas for me...and I cannot wait to share the projects and details with you. Now if I could just find the time to upload the pics and write posts ahead of time so I actually share them with you...
Five--
We are eating only preservative-free, grass-fed, free range, [insert other key organic term here] meat and poultry around here. I am loving it! It's a little "movement" I started in our home and Justin has quickly gotten into it as well which makes me so happy that it's something we have decided and changed as a couple. I am so happy we finally switched over and can be at peace knowing we are keeping our bodies free from all the unnecessary "junk" in meat and poultry that isn't this way. To each his own...no pressuring here...but it's been a fabulous change for us!
Six--
I love that our puppy loves water. We live on a lake and he loves when we go to the dock let him swim. It's definitely when the lab in him comes out to play!
I could go on forever...this
is
keeping me from having to work on my research proposal after all. Happy miscellany!